Hi there !
Are you in need of a professional Organizer ?
Need some dietetic care ?
Yes, it may seem strange to you, but I am a Registered Dietitian and a Professional Organiser. Sounds pretty weird, I agree. But don't let that scare you…  This just means I can help you in many different ways !
Let me explain …

Why hire a Dietitian and Professional Organiser? 
Do you recognize yourself in one of these scenarios ?
You're fed up with living in clutter or disorder.
Getting organized is your dream, but don't know how to start.
You'd like to lose weight but need help organizing your kitchen and pantry.
Your doctor told you to follow a diet but you need help implementing it at home.
Your stuff needs to be sorted out before moving.
A baby ! Congratulations ! But you'd like to reorganize your home first !
You've tried so many times cleaning up, but the mess just keeps coming back.
When people come over to your house, you're embarrassed.
I can think of so many situations where I know I'm useful to you !
What is a « Home, Office and Diet Organizer » ? 
A Home, Office and Diet Organizer is a Dietitian and a Professional Organizer ! Ok, I confess… It's a term I made up.
But it makes sense, doesn't it ? I'm both a registered dietitian and a professional Organizer. Which means I can help you organize your home in order to follow your diet !
Do you need nutritional advice ? Call me !
Do you need help decluttering or organizing your home ? Me again 🙂
Professional Organizer 
Many people think organizing is something everyone should be capable of doing, like boiling water. The truth is it's just not.
Professional organizers are trained, skilled specialists who help people create order where it is lacking in their lives, so that they can make long-term improvements and keep disorder at bay.

Registered dietitian
People also sometimes think following a diet is easy. You can just read it out of a book ! If only it were that simple…
Dietitians are the only qualified health professionals that assess, diagnose and treat dietary and nutritional problems at an individual and wider public-health level. They work with both healthy and sick people.

Who am I ?

 
Let me introduce myself !
My name is Ingrid.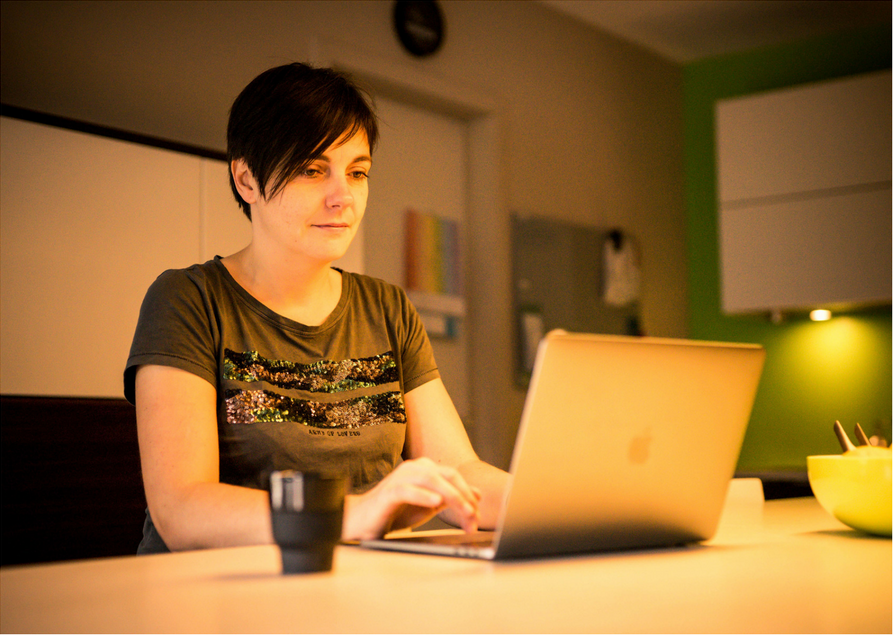 I'm 47 years old, married to a doctor and mother of three children.
My parents are former English teachers, and they used to send me regularly on holiday in England as a child. That's how I learned to speak English…
I live in Braine-le-Château, a quiet village just outside Brussels, a few miles from Waterloo.
My ambition
I want you to live that intense feeling of lightness, confidence and security  which procures an organized and decluttered life !
This is done by a three-way coaching : space (decluttering), time (organization) and body (healthy food).
As a qualified Professional Organizer and Registered Dietitian, I will help you clear up and organize your home or office.
Believe me, your life will be so much lighter and simplified !

Registered Dietitian
As a dietitian (Institut Paul Lambin – 1998), I have a fifteen years experience in clinical nutrition.
Amongst my former employers, you'll find :
My aim is to improve health and treat diseases and conditions by educating and giving practical advice to patients who suffer from :
Overweight and obesity
Digestive problems
Diabetes
High Blood Pressure
Cardiovascular disease
Enteral nutrition
But you don't necessarily  need to be ill to seek help from a dietitian ! I can also advise you on healthy eating habits :
When pregnant or breastfeeding
While growing up
For the elderly
Home Organizer
As a professional organizer (Elodie Wery Academy), my goal is to enhance your life by developing organizing systems and teaching organizational skills.
People often have busy schedules and quickly become frustrated by their own lack of organization.
I can assist in these situations by taking control of the chaos in your life and allowing  you to more effectively manage your time, paperwork or closet clutter.
Moreover, my 7 years long experience as head dietitian enables me to effectively coach you and advise you on kitchen organization, cooking and heathy eating habits.
How can I help you ?
Under my professional label « Allégeons votre vie ! » (Let's make your life lighter !), I'm here, by your side to help you take back control over your life !
House diagnose : initial consultation
 

2 hours – 140 euros + mileage fee
Unearth where you're feeling stuck in your home. Receive a 'next step' action  plan to create lasting transformation.
You'll receive lots of useful tips and a detailed report on how to organize your home.
Decluttering Mission 
3 to 5 hours – 55 euros/ hour + mileage fee
I declutter any room in your home or office. Putting it all back together in a neat and orderly fashion, clutter free !
Diet coaching @your home !
350 euros/ 3 months + mileage fee
Take action into lasting healthy eating habits ! This is how I work :
First we schedule a two hour appointment at your home.
During the first hour, we're going to get to know each other. I'm going to ask you a lot of questions about your food history, your weight, your clinical condition, your eating habits… and, last but definitely not least, your motivation !
Then it's time to inspect your kitchen ! Yes, that's the deal with me 🙂 My aim is to understand how you prepare your meals, choose your food, plan your menus …
Then we're going to set up a plan together. A plan for you to change your life !
During three months, we're going to see each other one hour every fortnight, and give each other a call in between.
This means you'll see me 6 times, and hear me 6 times on the phone. I hope you won't get fed up with me 😉
Dietitian @your home ! 
55 euros/ hour + mileage fee
If you're in need of a dietitian, I'll come to your home for nutritional advice. You can also make an appointment at my consult, in Braine-le-Château.
I'll be happy to help you with the following conditions : high blood pressure, cardiovascular disease, diabetes, overweight, underweight, enteral nutrition, digestive disorders.
Contact and info
Feel free to fill in the following form !
[contact-form][contact-field label='Name' type='name' required='1'/][contact-field label='E-mail' type='email' required='1'/][contact-field label='Phone' type='text'/][contact-field label='Comment' type='textarea' required='1'/][/contact-form]
Hantson Ingrid


Home, Office and Diet Organiser
rue de la Fontaine Maqué, 16
1440 Braine-le-Château
+32 497 54 20 15
allegeonsvotrevie@gmail.com
PS. Prices are without tax. Taxation on diet advice is 0%; Taxation on Home Organising is 21%.